Anush Bichakhchyan
July 1, 2022
6 min read
Updated SEO Checklist 2022
Keeping SEO strategies up-to-date is crucial to meeting marketing and business objectives. SEO has been around for years, evolving and changing like a living organism. Best SEO practices combine multi-level strategies that are interconnected and cannot be affected solely. 
 
Breaking down SEO components into categories
Research
On-page SEO
Off-page SEO
Everything else
Google's organic search algorithm that incorporates different on-page factors changes so frequently that you should always keep up with the pace to keep your SEO strategy up-to-date. In 2022, Google had the first major core algorithm upgrade and the first in 6 months. Taking about 2 weeks, the rollout significantly changed how its ranking engines evaluate material. The mission of SEO specialists is to follow the changes and update strategy with relevant elements. This brief introduction has prepared the ground for a more comprehensive checklist of the SEO components that will help you carry out an effective SEO campaign in 2022.
How to build a winning SEO Strategy in 2022
Going for the most prevalent schemes and checklists is part of the big job. The strategies and tools should be handled with expertise to build a winning SEO strategy. Here are the top expert tips to follow. 
Make your content human-centric, and then write for search engines.

Use target keywords in all the right places.

Keep focused on UX (user experience)

Build relevant links

Develop content relevant to Featured Snippets

Remove components that slow down the site

Track Google algorithm updates

Update content regularly
Research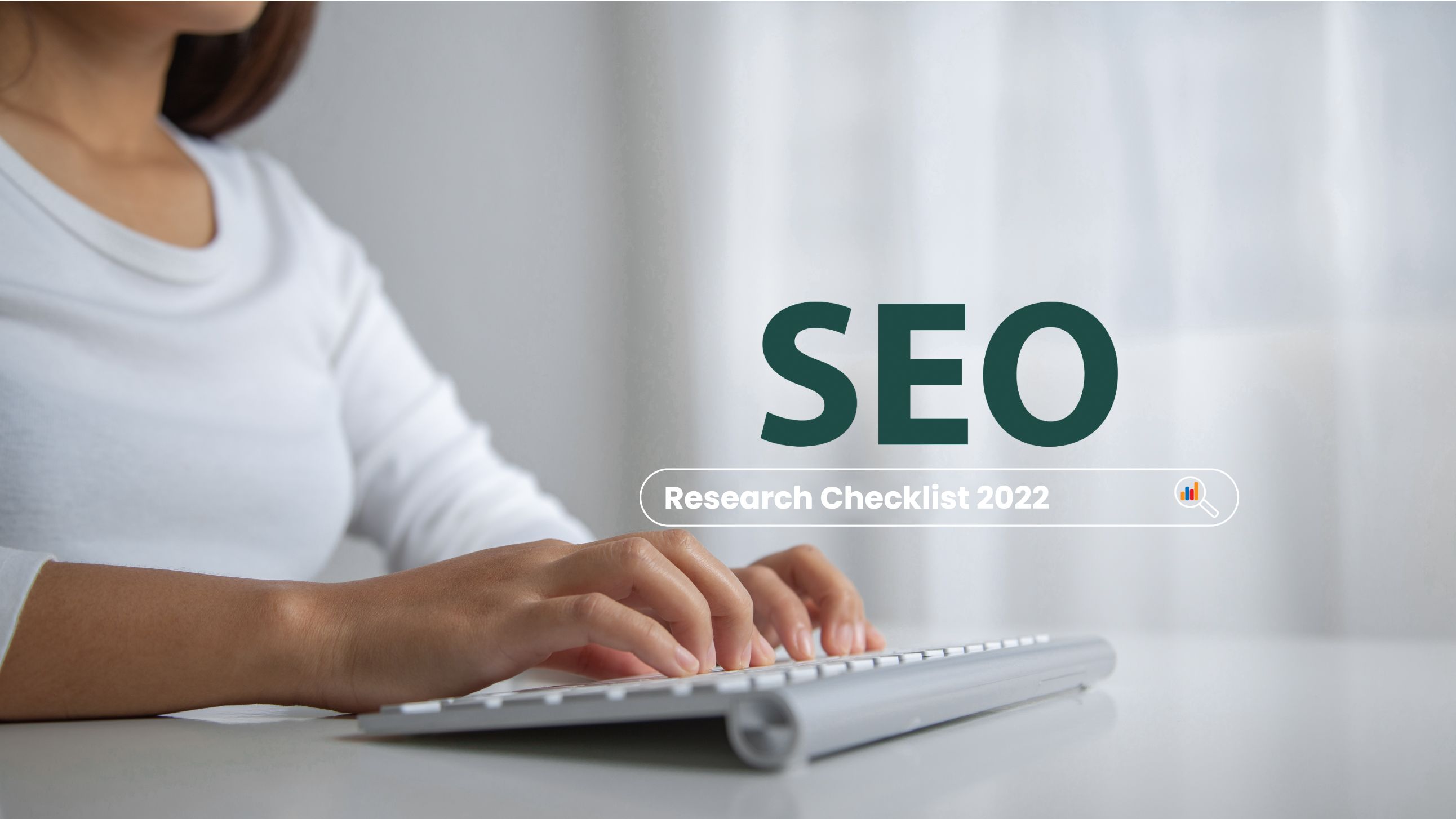 Research Checklist 2022
A significant part of SEO is often research updates, relevant fields, and competitors to build a strategy based on the research and analysis. Market research is carried out to capture demographics, customer needs, and values and build a competitive landscape and effective medium. 
The modern techniques and professional tools help carry out the most precise and in-depth research that later becomes a solid base for the organization's marketing strategy. 
Market research and analytics are carried out in two main directions: industry-based market research and competitor analysis. Both components are crucial for a successful research campaign. 
Updated Research Checklist 2022

Market Research
Competitor Research 
Get competitor link profiles 

List top competitors on SERP for keywords
Data collection
Define the current status of the website vs. its competitors

Business information (business name, address, phone number, etc.)

Activate Analytics on-site traffic

Check the website with the SEO site audit tool

Gather existing backlinks
Niche Research 
Keyword Research
Webmaster tools
What can research reveal for your organization? 
What is On-Page SEO
On-Page SEO Checklist 2022
On-page SEO is one of the components of search engine optimization focused on optimizing elements of the website to make it more usable and compelling for users. Well-implemented on-page SEO leads to high rankings, increased traffic, and more conversions. It may take time to see the results, but continuous on-page SEO is critical for digital marketing strategies. 
Why is On-Page SEO important?
 
Effective SEO tactics are the only way to make search engines understand the content and website and identify it as relevant and valuable. It is impossible to get noticed without SEO in this highly competitive market, and on-page optimization is just another innovative way to make the website visible on the SERPs.
 
What is an ideally optimized website?
To check whether your website has effective on-page optimization, analyze it through the following checklist. 
Is relevant to a specific topic

Provides unique content about a specific topic

Links back to its category page

Links back to its homepage
Major elements of On-Page Optimization
Though there are dozens of components of on-page SEO, it is wise to point out the main directions of workflow. 
 
Technical optimization

Content

Internal links and structure

Design
Updated On-Page SEO Checklist 2022
Finally, we have put together all the must-have optimization tactics and comprised a complete on-page SEO checklist. 
 
General
Robots txt file
Canonical URL
Rel="next" and Rel="prev" for pagination
Noindex thin pages
Cleaning issues in Webmaster Tools
Meta Tags
Add Alt Text to images
Check h# tags (<h1>, <h2>, etc)
Performance
Mobile-friendliness (responsive design or mobile website)
Multi-browser-friendliness
Page speed
Use CDN
Use good hosting
Compress images
Use different ways to cache
Use Google Insights for further fixes
Content
Delete duplicate content
Review visual design
Add multimedia
Categorize content
Publish the usual static pages (About, Privacy, Terms, Contact, etc.)
Keep indexed pages static
Add internal links
Add quality outbound links
Update content regularly
Improve content readability
Monitor Bounce Rate
Switch to an external cascading style sheet (CSS)
URLs
Integrate primary keywords
Use absolute URLs
Simplify dynamic URLs with mod_rewrite
Incorporate 301 redirects for rewritten URLs
Redirect non-www to www and vice versa
 
Schema
Test website for the current schema
What is Off-page SEO
Off-Page SEO Checklist 2022
Off-site SEO describes the tactics and tools used to implement outside the website and contribute to page rankings within SERPs. Those tactics don't involve changes on the website or publishing new content. 
Limiting off-site SEO with link building can give insignificant results. That is why the following strategies go far beyond link building and social media management. We have included a complete strategy of building reputation and presence supported by on-page SEO.
 
Why is Off-Page SEO important?

Getting ranks solely on content is challenging; it should be supported by external strategies to show Google what others think of your product. Simply put, off-site SEO helps determine how valuable and relevant your content is for search engines and users. 

Search engines' algorithms and ranking factors are constantly updating, so it is critical to keep the relevance of off-page optimization with regular checkups and updates. 
Updated Off-page SEO Checklist 2022
Analyze competitors' link profile
Set up Alerts for the brand
Find unlinked URLs and brand mentions
Conduct a link intersect analysis
Use competitors' broken backlinks
Leverage digital PR
Implement Skyscraper technique
Add links to unlined mentions
Optimize Google My Business
Check content ranking and find competing sites to get their links
Create social media profiles
Open a Pinterest account and follow relevant groups
Get on LinkedIn Pulse
Submit to Slideshare
Publish guest posts on influencer website
Do expert roundups
Start commenting on other blogs to build relationships
Broken link building
Register on websites that offer awards
Find quote directories
Register on institutional websites
Sponsor relevant events
Submit curation platforms
Launch newsletter
Build up relationships to have access to big publisher websites
Find resource pages
Add badges for the community to use on their sites
Build up category-specific sites
Do a link bait
Register in forums and answer relevant questions
Do you lack off-page SEO tools and strategies? 

Get a clear view of your off-site SEO and request advice.
Everything else
Powerful SEO involves the management, tracking, and analysis of data. On-Page and Off-Page SEO need to be combined and complemented with additional tactics. 
 
Rank tracking
Reputation monitoring
Improve branding, referrals, and traffic
Conversion Rate Optimization
Server configuration checks
Wrapping up

To stay on a float and build a strong community of customers and followers, you cannot just rely on luck or a well-developed website. Your business objectives and marketing goals should be supported with up-to-date SEO tactics that need to be tracked and aligned regularly. 
FAQ
What is the best SEO strategy for 2022?
Make your content human-centric and then write for search engines.

Use target keywords in all the right places.

Keep focused on UX (user experience)

Build relevant links

Develop content relevant to Featured Snippets

Remove components that slow down the site

Track Google algorithm updates

Update content regularly
On-page SEO is focused on optimizing website internal details and components that are under your control. 
Off-page optimization is focused on increasing brand reputation and authority through external strategies. 
What is the difference between on-page and off-page SEO?
On-page SEO works with internal resources and components, while off-page SEO uses external resources to build a reputation.